We also have expertise to design and supply lean phase pneumatic conveying Systems for granular material like Food grains,plastic granules,etc. as being employed to save time and effort also to prevent spillages / contamination ,etc.
Depending on the product characteristics, air volume & pressures are applied at design stage.
VENTECH SYSTEMS PVT. LTD. is one of the pioneer Designers & manufacturers of Lean type Positive Conveying System. In this system, material is conveyed with the help of Centrifugal Blower. Here material is conveyed either by negative suction or by positive pressure of blower.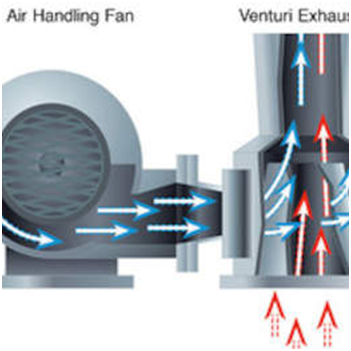 ---
VENTECH SYSTEMS PVT.LTD.Is engaged in manufacturing and supplying a wide assortment of Lean Phase Pneumatic Conveying System. Material can be conveyed in dilute phase through suspension in pipe line, regardless of the particle size, shape or density. It is often referred to as suspension flow because the particles are held in suspension in the air as they are blown or sucked through the pipeline.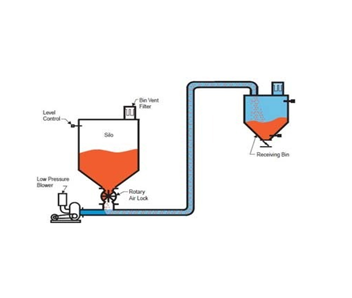 SOME OF THE SALIENT FEATURES OF LEAN PHASE PNEUMATIC CONVEYING SYSTEM ARE :-
Closed loop system- thus eliminating dusting

Suitable for complex plant layouts and for less fluidizable material

Ready to start systems - No Alignment / trials required

Robust systems, User friendly & with low maintenance demand

Higher conveying distances are possible as compared to Mechanical transfer

Less breakdown incidences & single point Maintenance

Single point utilities (Air, Electricals) connection

Online transfer system - No requirement of storage hopper for transfer

Suitable for long distances & multiple locations.

Makes use of low pressure, high volume gas & high velocity to fluidize for transferring powder or granular bulk solids up to capacity 50tph

Solid to air ratio ( kg solid / kg air) less than 10

For lean phase pressure system conveying length is up to 300mt. Approx.

For lean phase vacuum system conveying length is up to 50mt approx.

Systems utilize a positive displacement blower to create the requisite motive force

Rotary valve &venturi can be made use of as feeder in lean phase conveying system.

Lean phase systems are extensively used on non-abrasive, non-fragile and light density (typical <800kg/m3) materials.
OPTIONS AVAILABLE :-
Vacuum Conveying (Negative Pressure Conveying)

Batch Mixing & Conveying System

Pressure Conveying (Positive Pressure Conveying)

Can Handle Powders and Granules with various bulk densities

Truck Loading & Unloading Systems
SOME OF THE APPLICATIONS WHERE PNEUMATIC CONVEYING SYSTEMS ARE DEPLOYED :-
Alumina

Bag House Dust

Barlite

Bentonite

Carbon Black

Cement

Clay

Calcium Carbonate

Fluorspar

Gypsum

Lime

Perlite

PVC Resin

Salt

Soda Ash

Soap Powder

Power

Plastic

Soap & Detergent

Foundry Minerals

Manganese Oxides

Silica

Wood Bagasse

Pneumatic Conveying System

Cornstarch

Cement Clinker

Diatomaceous Earth

Talc

Food Powder

Master batch

Rice / Bran